Safety and Fire Prevention
More fires begin in the kitchen than any other room in the home. In fact, residential cooking is one of the leading causes of fire-related deaths.
By using working smoke alarms, carbon monoxide alarms and by having a home fire escape plan, Toronto Fire Services wants to help keep residents safe from death or injury.
You can find more information about fire safety – including for high-rise dwellers – here on the City's website, including fire safety information in many different languages.
Toronto Fire Service has provided important fire safety information below in multiple languages.
Your Home Safety Kit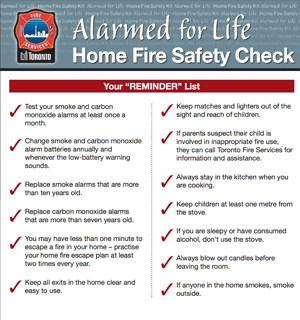 Free Emergency Preparedness Guides
The City's personal preparedness guide, available online here, has advice on how to prepare for emergencies and what to include in an emergency kit.
City staff have also prepared an emergency preparation guide for residents who live in high-rise buildings –  online here.
You can send an email to councillor_fragedakis@toronto.ca or call Councillor Fragedakis office at 416-392-4032 to get a copy of either of these mailed to you, while supplies last.
Power Outage Advice from Toronto Hydro
An update from Toronto Hydro:
Power outages can happen at any time, particularly during severe weather. While winter has been mild so far, that doesn't mean you shouldn't be thinking about getting prepared.
On the second anniversary of the ice storm, Toronto Hydro released a fun video to help you learn about emergency preparedness. The video follows the story of Sara and José as they experience a power outage in the city of Toronto, and shows why it's important to have an emergency kit put together before there's a power outage.
Watch the new video here: https://youtu.be/FArYcAUBU9g
More tips for putting together an emergency kit:
Keep your emergency kit in an easy-to-access location known to all family members
Check batteries twice a year
Ensure that you have at least one cell phone or non-cordless telephone
Have a list of emergency contact numbers nearby
Don't forget your pets! Have identification on your animals and enough pet food and water in your emergency kit for at least three days
It's also recommended that you customize your kit to your family – aging parents, young children and pets may require more preparation.
For information during a major outage, Toronto Hydro has a website –www.outages.torontohydro.com– that can be accessed from any device to get the latest news and updates.
Canadian Red Cross
The Canadian Red Cross has expertise in emergency preparedness and disaster management, including floods.
You can find resource for emergency preparation at their website.  Their guide to Expecting the Unexpected for parents can be found here.
You can also download a Guide to Flood Recovery here that outlines step-by-step instructions for cleaning up after a flood.